Our days are numbered on this earth.  Each day holds gifts for us.  May you excel in finding many tender glowing moments, no matter what your life situation.
January, 2017
Here are some photos from my walk today, and then a new drawing inspired by the season.
Winter is chilling the air and the ground in my little town.  I wonder how it is in your part of the world.
Thankfully it's been a nice wet season in the Gold Country.

I always find this an interesting time visually…  Every season has it's own type of beauty, but winter in the foothills hold many secret treasures.  The ground is green with new grasses.
 
Old dead weeds still stand in many untended spots.  


Bare oaks dot the rolling hills.

The creeks are running full.

Various types of birds squawk, tweet and flit from bare branch to twig.
The ducks meander and munch along by backyard creek.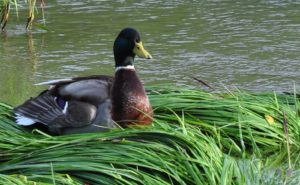 Our normally bright blue skies of summer are now gray, though today we have a bit of warming sun.
        
Being an artist means being on the alert for inspiration and treasures to be used in paintings and drawings.

Looks like a bunny tree, don't you think?

  "Tempest at Wintertide"  c2017

Thank you for stopping by and please come again.