2019 SCHEDULE
Explore color, light and shadow to create beautiful luminous watercolor paintings with me.
——————————————————————————–
Watercolor Workshop for PAL (Pleasanton Art League)



Workshop Title: Portraits and Steampunk
March 2 and 3, 2019
Each artist has a unique approach to watercolor painting. This workshop will help you build and strengthen your watercolor painting skills whether you're painting portraits or fantasies. This workshop will help you see the design structure in your paintings and by using glazes and many transparent layers.
Limited to 24 participants, this workshop will sell out FAST!
The Pleasanton Art League Proudly Present
a 2-Day Watercolor Workshop Featuring Jeannie Vodden
Firehouse Art Center, 4444 Railroad Avenue, Pleasanton, CA
Saturday & Sunday, 9:30 AM–4:30PM
The workshop fee is $225 for the early bird price before February 15, 2019 or $235 after that.
By Mail: Please provide name, address, phone, email address and mail with your check or money order payable to the Pleasanton Art League, c/o Workshops, P. O. Box 23, Pleasanton, CA 94566.
(A Workshop Material & Supplies List will be mailed to you when your registration is completed). For more information, go to: www.pal-art.com or contact Linda or George Garbarino 925 462-8779 or email: lindagarbarino@comcast.net
________________________________________________________________________
1-Day Watercolor Workshop in Lodi
"Exploring Watercolor"
When: March 12,




Time: 9 am – 12 pm




Where: Double Dip Gallery on Pine Street, Lodi, CA




Class Fee: $65
To Sign up go to Double Dip Gallery or call 209 365-3344
Watercolor in Translucent Layers… A day for learning and practicing with the colors and techniques that I use in my paintings.
No specific subject matter, however you will learn all the basics that I use for all different subjects. Open to all skill levels.

________________________________________________________________________
2-Day Watercolor Workshop in Cameron Park
This class is full. I will start taking a waiting list for those interested.
"Blue Birds"
When: March 29 & 30
Time: 10 am – 4 pm
Class Fee: $200
Nothing Better in Springtime than sweet little blue birds, in the garden and on our easels! So, let's paint them… Blue Birds, water, splashes and background. Class will include daily demonstrations, on on one instruction as well as plenty of painting time and friendly critiques. Each student's skill level will be different. Take your time, try your hand and enjoy the process.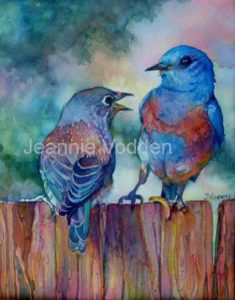 ____________________________________________________________________
3-Day Watercolor Workshop at Tony Segale's Double Dip Gallery in Lodi
"Watercolor Portrait Beginnings"
Dates: April 12 – 14, 9 am – 4 pm




Where: Double Dip Gallery on Pine Street in Lodi, CA




Workshop Fee: $300
To Sign up go to Double Dip Gallery or call 209 365-3344
Overview//Explore Color, Light and Shadow to create Heartfelt and Beautiful Luminous Watercolor Portraits
Using a limited palette of staining transparent color, Jeannie will teach you her unique methods as she guides you in painting eyes, hair, skin and clothing.
Practice in small studies or paint a full portrait, or both!
____________________________________________________________________
Watercolor Workshop for the San Luis Obispo Museum of Art
"Painted Petals and Watercolor Wings"
Location: 1010 Broad Street (on the west end of the Mission Plaza)
San Luis Obispo, California 93401
805.543.8562
May 17—19, 2019. 9 AM — 4 PM
Registration $300 members, $325 general. Materials list online. Please register by Friday, May 10, 2019.
To Sign up go to: http://www.sloma.org/education/workshops.php?event=1837
Overview // Who doesn't love bright little birds and sunlit flowers? This will be the focus of Jeannie Vodden's watercolor workshop as she shares her secrets to painting luminous, lifelike watercolors using a limited palette of only 3 colors. Follow along with Jeannie as she demonstrates the steps and techniques that used in painting her magical paintings.
This workshop will include watercolor demonstrations, plenty of painting time, individual attention and gentle critiques. Students will gain skill in Jeannie's unique watercolor methods with demonstrations, student exercises, and one-on-one instruction.
All levels are welcome! Feel free to bring photos from which to work.
________________________________________________________________
Watercolor Workshop – 3 Days – Double Dip Gallery in Lodi
"Glorious Florals"
When: June 14 – 16, 9 am – 4 pm




Where: Double Dip Gallery, 222 W. Pine Street in Downtown Lodi, Ca


Class Fee: $300

To Sign up go to Double Dip Gallery or call 209 365-3344
Class Overview// The beginning of summer when the garden is blooming with color seems a great time
to take a break from all our hard work to paint what we've grown.
Hope you will join us for painting colorful gorgeous bouquets of sumptuous delight.
Maybe even a little butterfly or bee might be included in Jeannie's instruction.
________________________________________________________________
ART Inc in Castro Valley, Watercolor Demonstration
Date: July 13, 2019, Second Saturday




Time: 2 – 4 pm




Where: Adobe Art Gallery, Redwood Room, 20395 San Miguel Ave, Castro Valley, Ca
All are welcome!
______________________________________________________
Watercolor Steampunk Fun in Lodi
"Pipedreams"
Come and create wonderful steampunk or fantasy images with me. Class will be full of information and inspirations.
When: October 11 – 13




Time: 9 am – 4 pm




Class Fee: $300




Where: Double Dip Gallery in Lodi
To Sign up go to https://doubledipgallery.com/art-workshops-2/ or call 209 365-3344
______________________________________________________________________
Mendocino Art Center – 3 Day Workshop
"Pipedreams"
When: November 8 – 10
Time: 9:00 am- 4:30 pm
Where: Mendocino Art Center,

45200 Little Lake St, Mendocino, CA 95460
To Sign Up for class: Go to www.mendocinoartcenter.org or call (707) 937-5818
Students will be given guidance in creating fun Steampunk paintings using Jeannie's photos and imagery, as well as various other inspirations.
Students will learn how to use a limited palette of only 3 transparent staining hues to achieve a full spectrum of color, using layering, mingling and mixing of three hues
This workshop will help you build your watercolor painting skills and confidence, and will help you learn ways to strengthen the design structure of your paintings.
______________________________________________________________________
About Jeannie's workshops:



Students will be guided in exploring unique techniques used to create translucent imagery.
Learn how to use a limited palette of only 3 transparent staining hues to achieve beautiful rainbow-colored layers of color.

By mingling color on dry paper, and on wet, you will create amazing mixes of color through glazing.

See and learn how to lift and move color while paper is still damp making beautiful fresh textures and surface illusions.

This process takes some patience, practice and understanding, but the visual effects reveal an unusual depth of color which is well worth the effort.
Jeannie demonstrates each day.
Each student will start with practice and exploration of techniques.
Beginners may work with Jeannie's images, while more advanced students may choose the subject matter of their own choice.
Materials List for Watercolor Classes and Workshops
Paper: Artist-grade cold-press paper, 140 lb. (Stretched preferred) or 300 lb. Clipped, stapled or taped on gatorboard or other hard surface.
Use ¼ sheet, ½ sheet or full sheet, your choice

(For those wanting to use my template, use ¼ sheet)

Watercolor pads, 140 lb., 11 x 14 or larger, are okay

I recommend Arches brand paper.

Be prepared with extra paper for practice studies.
Brushes: Round synthetic or sable: #2, #6, #10, #14, #16, #26 (or larger)
I like Robert Simmons White Sable brushes, Robert Simmons "Sienna", and Princeton brushes but any good synthetic or sable brush will be fine.
Palette: Large Professional palette with areas for mixing colors.
Paints:
Essential:
Winsor Yellow, or another transparent yellow (Cadmium Yellow Medium okay)
Permanent Rose
Thalo Blue or Winsor Blue (green shade)
Optional:
Winsor Orange, or other transparent orange
Alizarin Crimson
Cobalt Blue
Winsor Dioxazine Violet
Thalo Turquoise
Perelyne Green
Green Gold
Quinacridones: Gold, Coral, Magenta
Water containers:
Two – quart or larger plastic containers
Miscellaneous:
2B pencil and sharpener or automatic pencil
Graphite transfer paper (no wax)
Kneaded eraser
Household sponge
Ruler
Paper towels and/or Kleenex
Masking Tape or blue tape
Spray Bottle
Notebook
Sketchbook
*I work on a slanted surface, so bring something sturdy to prop up your work ie: pencil box, 2×4 piece of wood
Jeannie Vodden 1/16
___________________

__________________________________________________________________________________________