2017 CLASS SCHEDULE
1. California Watercolor Association: 

"Translucent Watercolor Portraits" 
DATES//  March 15 – 18, 2017 
LOCATION//  Cal State East Bay 4700 Ygnacio Valley Road, Concord, CA
CLASS FEES//
Non Members Fee: $550.00 Members Fee: $495.00



2.  

Sierra Watercolor Society, Reno, Nevada
DETAILS//  3 day watercolor workshop
DATES// May 10 -12, 2017, 9am – 4pm
                    with WATERCOLOR DEMONSTRATION on May 13, 1pm – 3pm
My workshop will include introduction into my limited palette, my techniques and the use of staining transparent color.  I plan to work on a still life with Ball jar and flowers, then, if time allows, work on a small portrait of a child.
My demonstration on May 13th will be the start of a large portrait.  I'll talk about what inspires me and share many of my techniques.
Sierra Watercolor Society

Sierra Watercolor Society
3.  "
Fur and Feathers" at Double Dip Gallery in Lodi
DATES// June 23 – 25, 2017, 9am – 4pm
WORKSHOP FEES// $250… Bring a friend and get a $25 discount
Come and learn how to paint a beloved pet using your own photo, or follow along with me as I demonstrate the techniques I use for painting animals and birds.  We'll start with the basics and work our way into a painting or two.
Or contact me at// jeannie@jeannievodden.com
4. 
Mendocino Art Center "Jars and Posies"
DATES// July 28 – 30, 2017, 9am – 4pm
This workshop is appropriate for all skill levels
To Sign Up for class, or for more information, contact the Mendocino Art Center// http://www.mendocinoartcenter.org
Phone:  707-937-5818 or 800-653-3328
Address:  45200 Little Lake Street
P.O. Box 765
Mendocino, CA 95460
Learn about painting translucent and transparent objects, about creating the illusion of volume, about reflected light, cast shadows and soft turning edges.
Follow along with me, or bring your own photos to work from.  Basic techniques will be covered and practiced.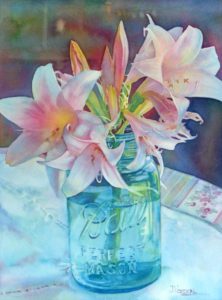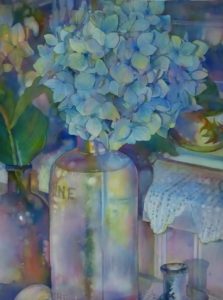 5 

"Opalescent Layers of Color"
  LOCATION// Emerald Art Center, Springfield, Oregon
DATES//  October 19 – 21, 2017  9am – 4pm

This workshop is appropriate for all skill levels
WORKSHOP FEES//  Member $390, Non Membert: $415
Registration Deadline// 9/25/2017
Watercolorists often worry about overworking their paintings and creating "mud".  They also may find the multitude of colors in their paint box confusing and expensive.  In this watercolor workshop, I will teach students how I work with a limited palette of only 3 staining transparent watercolor hues to craft clean and translucent paintings.
Students will first learn my color mingling, layering and lifting  techniques.
Then I will demonstrate, working through a small floral and a small portrait.
_____________________________________________________
Materials List for Watercolor Classes and Workshops
Paper:   Artist-grade cold-press paper, 140 lb. (Stretched preferred) or 300 lb. Clipped, stapled or taped on gatorboard or other hard surface.
Use ¼ sheet, ½ sheet or full sheet, your choice

(For those wanting to use my template, use ¼ sheet)

Watercolor pads, 140 lb., 11 x 14 or larger, are okay

I recommend Arches brand paper.

Be prepared with extra paper for practice studies.
Brushes:  Round synthetic or sable:  #2, #6, #10, #14, #16, #26 (or larger)
I like Robert Simmons White Sable brushes, Robert Simmons "Sienna", and Princeton brushes but any good synthetic or sable brush will be fine.  
Palette: Large Professional palette with areas for mixing colors.
Paints:
Essential:



Winsor Yellow, or another transparent yellow (Cadmium Yellow Medium okay)
Permanent Rose
Thalo Blue or Winsor Blue (green shade)
Optional:
Winsor Orange, or other transparent orange
Alizarin Crimson
Cobalt Blue
French Ultramarine Blue
Winsor Dioxazine Violet
Thalo Turquoise
Perelyne Green
Green Gold
Quinacridones: Gold, Coral, Magenta        
Water containers: Two – quart or larger plastic containers
Miscellaneous:
2B pencil and sharpener or automatic pencil
Graphite transfer paper (no wax)
Kneaded eraser
Household sponge
Ruler
Paper towels and/or Kleenex
Masking Tape or blue tape 
Spray Bottle
Notebook
Sketchbook
*I work on a slanted surface, so bring something sturdy to prop up your work ie: pencil box, 2×4  piece of wood 
Jeannie Vodden 1/16