I believe that through patient teaching methods including encouragement, examples and helpful suggestions students learn best.
Strive for excellence, not perfection.
2016 Schedule of Classes



Can you believe we're already in June?  Boy!  I sure cannot.  This year has flown by.  Here's what's up for the rest of 2016 and into 2017.  
Hope you have time for a class with me.  Happy Painting!
——————————————————————————————————–
Mendocino Art Center:  July 18 – 22
  
"Sense-Sational Roses and Faces"
Workshop Dates: July 18-22 2016 (Mon. – Fri.)
Contact the Mendocino Arts Center to sign up:  http://www.mendocinoartcenter.org/Fine_Art.html
In our world there are many surfaces… shiny, textural, transparent, reflective, luminescent and iridescent.   The artist who understands what goes into rendering these surfaces can create, not only beautiful paintings, but, works that call to the viewer's senses.
In this class, using two different subject matters, Jeannie will guide you in exploring these surface qualities. First she will demonstrate painting a beautiful translucent rose, including how to paint glistening water drops.
Next the class will explore a close up portrait which will include a bit of hair, glowing eyes, smooth skin, and glossy lips.
In beginning to understand the individual qualities of each surface and the techniques that go into creating them, you may add a whole new depth and meaning to your paintings.
Come experience, explore and create.
——————————————————————————————————–
"Sparkle and Shine"
Three day watercolor workshop in Lodi, CA at Double Dip Gallery
          
When:  August, 9 – 11
Times:  10am – 4pm   Time change:  9 am -4 pm
Class fee: $250
Let's study how to paint shiny surfaces…  silver, glass, chrome…  It's always fun to see the surface of an object come to life on the page.  Jeannie will help you see and translate paint on paper into the illusion of shine.  A design and photo reference will be provided, but students may use their own photo, if desired.
——————————————————————————————————–
North Valley Art League Watercolor Workshop
"Painting with Rainbows"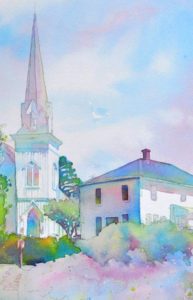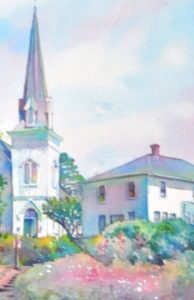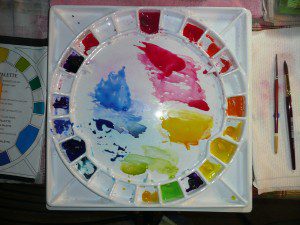 When:  August 30 – September 2, 9 am to 4 pm
Where:  SDA Church, 2828 Eureka Way, Redding, CA 96001

Cost:  NVAL Members:  $325,  Non-Members:  $350   nval membership is $35 per year.  to join nval, click here.

30 spots available,  Signup Deadline, August 15
In this 4 day workshop I will demonstrate my translucent approach to watercolor.  I'll show students how to use layers of transparent staining color to create luminescence, variety and beauty. Subject matter is open, however students may, if desired, use Jeannie's image to work from and to follow along.
Students will be encouraged to try a variety of warm-up exercises which will add to their in skill in watercolor.  Creative backgrounds will be discussed and demonstrated.  Color mixing, glazing, composition and design are always included in my workshops.  I will demonstrate, critique and give individual attention to each student and guide each student at their own skill level.
---
I will be Jurying the
North Valley Art League's National Show

this year!
You may click the above link to enter the show and to find out more.
_____________________________________________________________
Translucent Watercolor Portraits in San Luis Obispo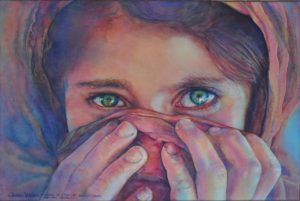 When:  October 14 – 16, 2016 
Times:  10 am – 4 pm
Where:  San Luis Obispo Museum of Art
To find out more and to sign up for this class please click the link below.
http://www.sloma.org/education/workshops.php?event=922
——————————————————————————————————–
_________________________________________________________________________
If you're interested in any of these events or classes, please contact me for more information and to sign up.
Materials List for Watercolor Classes and Workshops
Paper:   Artist-grade cold-press paper, 140 lb. (Stretched preferred) or 300 lb. Clipped, stapled or taped on gatorboard or other hard surface.
Use ¼ sheet, ½ sheet or full sheet, your choice

(For those wanting to use my template, use ¼ sheet)

Watercolor pads, 140 lb., 11 x 14 or larger, are okay

I recommend Arches brand paper.

Be prepared with extra paper for practice studies.
Brushes:  Round synthetic or sable:  #2, #6, #10, #14, #16, #26 (or larger)
I like Robert Simmons White Sable brushes, Robert Simmons "Sienna", and Princeton brushes but any good synthetic or sable brush will be fine.  
Palette: Large Professional palette with areas for mixing colors.
Paints:
Essential:



Winsor Yellow, or another transparent yellow (Cadmium Yellow Medium okay)
Permanent Rose
Thalo Blue or Winsor Blue (green shade)
Optional:
Thalo Yellow Green (Grumbacher), or Skip's Green (Cheap Joe's)
Winsor Lemon or other transparent lemon yellow
Winsor Orange
Cobalt Blue
French Ultramarine Blue
Winsor Dioxazine Violet
Alizarin Crimson
Winsor Green (blue shade)
Quinacridone Gold, Coral, Magenta        
Water containers: Two – quart or larger plastic containers
Miscellaneous:
2B pencil and sharpener or automatic pencil
Graphite transfer paper (no wax)
Kneaded eraser
Household sponge
Ruler
Paper towels and/or Kleenex
Masking Tape or blue tape 
Spray Bottle
Notebook
Sketchbook
*I work on a slanted surface, so bring something sturdy to prop up your work ie: pencil box, 2×4 or 4×4 piece of wood 
Jeannie Vodden 1/13