2018
SCHEDULE
Watercolor Demonstration for the
Sutter Creek Women's Club
LOCATION:  Sutter Creek, CA

DATES:  January 3 – Wednesday

I'm happy to start 2018 off with a demo for our beautiful Gold Country women!  I'll be focusing on how I use a simple palette, limited color and relatively inexpensive brushes, to create my paintings, and showing how others can do the same.  You don't need a lot of expensive materials to paint.  You do need practice and someone to show you some techniques and methods.  Hope you can join us
Floral and Still Life Watercolor Workshop
Where:  Double Dip Gallery, Lodi, CA
When:  February 3 – 5 (Saturday – Monday)
Time each day:  9:00 am – 4:00 pm
Class Fee:  $250
Watercolor Demonstration
Placerville Art Association
When:  February 18 (Sunday)
WASH Workshop and Demonstration
April 9
9:30 am – 4:00 pm
7:00 – 9:00 pm
Steampunky Watercolors
Sandy Palmer's Classroom, Cottonwood, CA
April 13 – 15
Sonora
May 15, 22, & 29 (One day for 3 weeks)
Fur and Feathers
Where:  Double Dip Gallery, Lodi, CA
June 8 – 10 (Friday – Sunday
9:00 am – 4:00 pm
Class Fee:  $250
Watercolor Portraits
Where:  Double Dip Gallery, Lodi, CA
9:00 am – 4:00 pm
Class Fee:  $250
**In each class and workshop we will explore the unique techniques used to create translucent imagery.
Learn how to use a limited palette of only 3 transparent staining hues to achieve beautiful rainbow-colored layers of color.
By mingling color on dry paper, and on wet, you will create amazing mixes of color through glazing.
Each layer modifies the underlying hues without creating mud.
This process of watercolor painting creates a multilevel glow.
See and learn how to lift and move color while paper is still damp making beautiful fresh textures and surface illusions.
This process takes some patience, practice and understanding, but the visual effects reveal an unusual depth of color which is very worth the effort.
Jeannie will demonstrate each day…. showing step by step her methods.
Each student will start with practice and exploration of techniques. 
Beginners may work with Jeannie's images, while more advanced students may choose the subject matter of their own choice.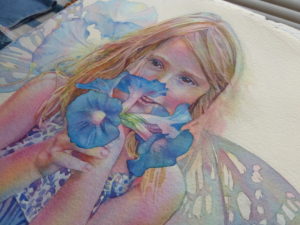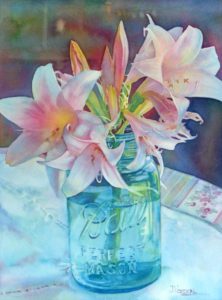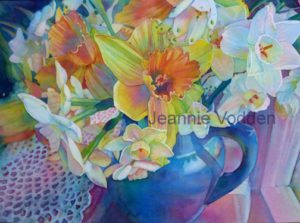 _____________________________________________________
Materials List for Watercolor Classes and Workshops
Paper:   Artist-grade cold-press paper, 140 lb. (Stretched preferred) or 300 lb. Clipped, stapled or taped on gatorboard or other hard surface.
Use ¼ sheet, ½ sheet or full sheet, your choice

(For those wanting to use my template, use ¼ sheet)

Watercolor pads, 140 lb., 11 x 14 or larger, are okay

I recommend Arches brand paper.

Be prepared with extra paper for practice studies.
Brushes:  Round synthetic or sable:  #2, #6, #10, #14, #16, #26 (or larger)
I like Robert Simmons White Sable brushes, Robert Simmons "Sienna", and Princeton brushes but any good synthetic or sable brush will be fine.  
Palette: Large Professional palette with areas for mixing colors.
Paints:
Essential:



Winsor Yellow, or another transparent yellow (Cadmium Yellow Medium okay)
Permanent Rose
Thalo Blue or Winsor Blue (green shade)
Optional:
Winsor Orange, or other transparent orange
Alizarin Crimson
Cobalt Blue
French Ultramarine Blue
Winsor Dioxazine Violet
Thalo Turquoise
Perelyne Green
Green Gold
Quinacridones: Gold, Coral, Magenta        
Water containers: Two – quart or larger plastic containers
Miscellaneous:
2B pencil and sharpener or automatic pencil
Graphite transfer paper (no wax)
Kneaded eraser
Household sponge
Ruler
Paper towels and/or Kleenex
Masking Tape or blue tape 
Spray Bottle
Notebook
Sketchbook
*I work on a slanted surface, so bring something sturdy to prop up your work ie: pencil box, 2×4  piece of wood 
Jeannie Vodden 1/16