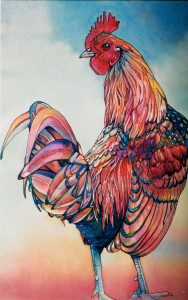 July 30 – August 2, 2009 are the dates this year for the Amador County Fair. Â This year I'll be demonstrating in watercolor on Saturday, August 1 from 10 am – 4 pm.
I did not enter the fair fine art competition, but will have some work with me, as well as class information, fine art cards and my portfolio. Â Please come and watch me paint.
Every year the Amador County Fair has a wonderful fine art and photography competition.  The same building, Pokerville Hall, houses beautiful quilts and crafts.