Here are some eye studies for you to follow. Â A nice way of studying the eye is to get photos from magazines with different viewpoints and varying colors and draw and/or paint them.
Here I am using 3 primary colors: Â Winsor Blue Green Shade, Permanent Rose and Winsor Yellow. Â Notice how many colors I can achieve from only these three.
In the first glaze I gently wash in color (moving from color to color), painting around or  lifting out only my very lightest areas, then let it dry.
Next I've gone in with another glaze over the first one. Â Now I am building some form and darkening, painting around my highlights and and the white of the eye… which you will notice is not white but a very light blue with a bit of rose and yellow. Â This keeps the eye looking round and real.
Building the eye socket, the eye lid and lashes, as well as the iris of the eye is next. Â I continue using a light washes of color and then charge in stronger values, using more pigment only after the eye is pretty well formed. Â Retaining the whites and highlights is very important to giving the eye a wet look.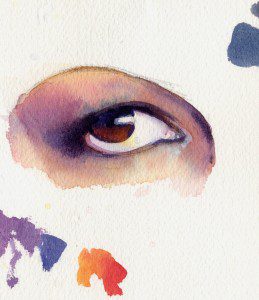 Here's the finished eye. Â I've just added a bit more of my blue and rose, mixed into a rich violet to the darkest areas.
Hope this helps you understand a bit more about my painting process and gives you inspiration to try some eyes for yourself.