Well, our local Amador County Fair is over. Â Summer, the time of county and state fairs, is always a great time for friends and family. I love doing watercolor demos and visiting with the fair goers.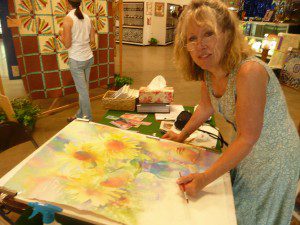 Here are some pics of my demo and of the fair window I created for the
Amador Stars
(our local cancer support organization) this year. This is the third year for my window experience. Â I love doing it for the Stars. I just use large sheets of cardboard, acrylic paint and my imagination.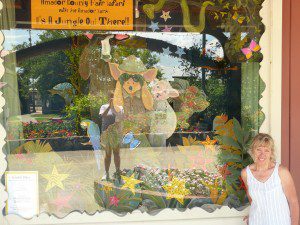 The theme for the fair this year was
County Fair Safari, It's a Jungle Out There!
It's always an interesting process to brain storm ideas for the theme. Â This year I used artist
Henri Rousseau
for inspiration. Â He painted marvelous jungle paintings. I remember seeing one at The Museum of Modern Art in San Francisco. I also wanted to bring in the county fair animals that I've used in past years. And, of course, probably most important, I wanted to bring in the Stars. Here's where my Stars friends, Rita Nunes, her daughter, Janet and granddaughter, Olivia, Nancy Swensen, Carol Woolsey, my mom, Lucille Morrison, come in. Â They all contribute to the window, either by helping with the set-up or by painting the wonderful imaginative stars used as flowers in the jungle. My dad, Ken Morrison, helps me with the technical aspects, making it all come together. We have all been touched by cancer in one way or another, so we have a special bond.