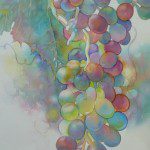 Just home from my 3-day watercolor workshop up in beautiful Markleeville, Ca. Â The hostess of the workshop, Evelyn Yonker, provided us space in her amazing light-filled home.
15 hard-working students, among them, accomplished artists and art teachers, spent three full days working to understand and apply my glazing, mingled color techniques to their watercolor paintings.
Each day Jasmine, Evelyn's sweet dog, would greet the students by running down to the front door and barking a delighted greeting to the arriving artist, then racing back up to our classroom area to announce in doggese:  "Here she is!  Someone else has arrived!"
Evelyn is the owner of the Markleeville Art Gallery, an accomplished painter and sculpter, and an advocate for local art and artists in her area.  She not only runs the gallery, but does office work for Yonker Construction (the company her husband and she own) and puts on workshops bringing in artists for local students to learn from.
Evelyn and her husband, Steve, live in a beautiful open area east of the Sierra Nevada Mountains, where you can see 360 degrees of mountains and sky. Â The sunrises and sunsets and night skies are absolutely incredible. Â I loved being there and taking walks in the morning.
Here are some pics of some of the students …
For a little more on this workshop see Ida Glazier's blog http://artskipsabeat.blogspot.com