A critique group is formed
In my weekly classes at University Art, I had noticed that a group of my core students were bonding, sitting together, going to lunch together,  sharing extra time.  These students were some of the more advanced in my classes, they had a great interest to learning and dedication to improving their skills.  When University Art (Fulton and Marconi location) closed, they decided to keep going.  They met regularly.  They encouraged each other.  They learned how to critique each others' work in a kind and thoughtful way, helping each to continue to grow.
An Art Show Happens
This month they are taking the fruits of their labor out into the world to share with others… a big commitment they have worked toward for months.  They are showing their paintings at Danielle's Creperie off of Watt Ave and Fair Oaks in Sacramento, January through February.  Their first group show!
Good Friends and Colleagues Share Rewards
We had lunch there together yesterday.  Their show is beautiful!  Go see it if you're in the area.  The food is great too.  I'm a proud teacher.
Congratulations to:
Jo Kopp, Maura Donavan, Maria Porter, Carolyn Cimino,  Cathy Alltucker,  & Sue Davis!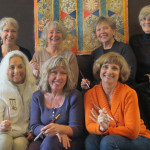 In their own words:  "During the past five years we have grown together as artists on our individual journeys.  Jeannie Vodden, our main instructor over this time, has served as our guide in watercolor techniques, color theory, and composition. By using her style of layering luscious washes to sculpt still lifes, landscapes, and portraits, our
paintings now have more depth and luminosity. Most importantly, she has instilled in us the joy of mixing water and color to create beauty."