I'm home from my workshop in Redding. Â 
What a great time!
Monday: I was in charge of jurying the North Valley Art League's 32nd National Show.  
I had already started the process at the beginning of July by picking from artworks entered online. Â Then on Monday, August, 29th, I saw the artworks in person. Â I was pleased, for the most part, seeing the work I had picked. Â Interestingly, some of the work was smaller than I had expected. Â There were a few, as I wandered through NVAL's gallery space, that called out to me to look closer. Judging is always a daunting as well as enriching experience for me. Â I love seeing what other artists do.
After making my picks for awards, I rode back with my hostess, Eve Berg-Pugh, to her home.  One of the lovely things about teaching away from home, is meeting generous people such as Eve and her husband, Arch.  Eve and Arch treated me to wonderful healthy homemade food, comfort and peace.  Eve is an artist as well, so there is always something to talk about.  But, she is sensitive to my needs, giving me some alone time to rest and rejuvenate.  Thank you Eve!
On that same evening, Eve and I returned to the NVAL gallery and I gave a slide show presentation showcasing my work.  Those who know me, know I was a shy child. I find it amusing that I ended up speaking to groups with confidence.  Shy people can do this!  The secret for me is that I am talking about something I love and know fairly well, so words come easily.  The more I do it, the more I feel the generosity of the dear people listening.
Tuesday morning: Â 
We were up early… and off to teaching a fabulous group of women, some experienced artists, some brand new to watercolor.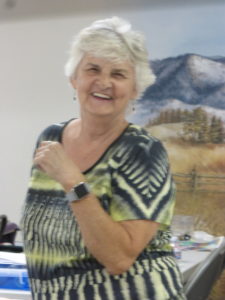 Tuesday – Friday
The workshop lasted for 4 days. Â Always there are moments of discouragement for students, but, usually by the end of the workshop, everyone is thrilled to have learned and pleased with the results.
If you are entering an art show, here are a couple of tips I'd like to pass along to you. Â 
Enter as many paintings as you are allowed to, even if only one might be accepted. Â Definitely enter more than one piece. Â The reason for this is that the judge can see a broader range of your work, your theme, your skill level. Â This really helps the judge, and I found that I remembered and was impacted certain artist's works because of this.
Enter artwork you believe in and that is your best effort.
Understand that your work may not be accepted, or awarded in this show, but may be in another show, so enter as many shows as you can.
Oh, and don't necessarily enter the same kind of work as the judge does. Â The judge may be harder on you, because this is something he/she is very skilled at doing.
Best of luck to you as you pursue your own art career!
More to come about Redding...................