In the late 1800's and early 1900's the beautiful refined style of Czech artist Alphonse Mucha became well known.
I first saw images of his work at American River College when I was studying with Gary Pruner. Gary used Mucha's work, among others, to illustrate design and composition.
I loved it at first sight!
Many current artists are using the design elements he invented. You might want to try to experiment with it as well.
Go over to art nouveau inspired art and you will find some of Mucha's own designs as well some current artwork.

Over the years I've tried with my own take on this style… Here are a few examples.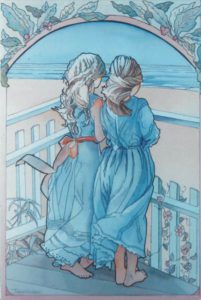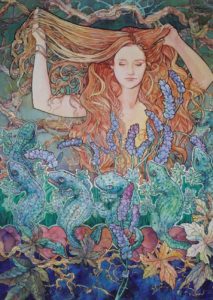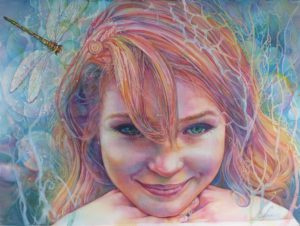 The elements of Mucha's Style:
Curvilinear Line:
Hierarchy of Line over Form
Mucha used outlining to emphasize shapes and curves of his figures

Rhythm:
Repetition of Line, Shape and Pattern
Complication/Simplicity:
He used relatively simple design and division of space, juxtaposed with complex detail and ornamentation
Mucha uses Idealized Women in non-aggressive poses surrounded with nature, gardens, flowers and creatures
Flowers were often dissected to reveal repeated shapes and detailed designs
Hidden creatures, almost invisible, were sometimes used in some designs.
Branches and trees were used as backdrops for many figures.
Circles and mandalas were used as backdrops for figures.
Drapery/Hair:
Exaggerated the movement and flow of fabric folds and curling hair waves.
Curves and Shapes and Divisions become part of overall design, body, shape, and form.
Shadows are evident by uses of repeated and modulated line.
Sometimes there is modeling of the clothing, face and hands, but they are kept to a minimum.
Color:
Mucha's color appears muted and soothing with subtle variations.
Reference Material:
1. The Triumph of Art Nouveau Mucha by Arthur Ellridge, English edition published in 1994

Available through Amazon.com
2. The Art Nouveau Style Book of Alphonse Mucha by Alphonse Marie Mucha Available through Amazon.com (Paperback – Oct. 1, 1980)