For my students in Sacramento at University Art…Â  I promised to post my recent demos.
First is a simple flat wash transitioning from dark to light.
  
Winter Sky
Use your ruler to line out a small rectangle on your watercolor paper (approximately 2 or 3 inches by 5 – 8 inches.)Â  Stretched Arches 140lb cold pressed paper works best.
Step one:  Paint a flat wash of color.  I used Winsor Blue Green Shade mixed with Winsor   Dioxozine Violet.  Let dry completely.
Step two:  Paint a second layer using heavy pigment at top and gradually adding more and more water to pigment in palette as you work your way down the area to be painted.  (I started with Winsor Violet and then gradually added Winsor Blue Green Shade.)  Let dry.
Step three:  Leave space at top of page and start a mountain shape with a mixture of Winsor Blue and Winsor Violet.  Bring color all the way to the bottom of the page.  Go back up to mountain shape and push in a bit of water, gently pushing up against the ridge of mountains.  Let dry.
Repeat Step three as many times as you'd like creating multiple mountain ranges.
Optional is to use masking fluid or negative paint to create stars and/or a moon.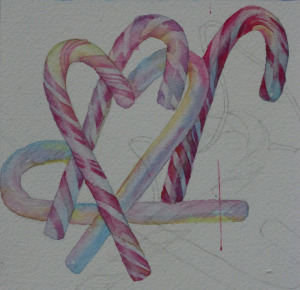 Candy Canes 
These are created by several washes of color.
I used Winsor Blue Green Shade, Permanent Rose and Winsor Yellow.
Step one:  Gather up a few Candy canes and draw one or two on tracing paper.  Transfer the drawings onto your watercolor paper.  You can add as many candy canes as you like.
Step two:  Paint a wash of color on wet or dry paper mingle the three colors.  Do not over mix.  Just let the colors mingle together.  Let dry.
Step three:  Draw out your stripes and paint them using Permanent Rose.  Leave some light for highlights.
On my little study the candy cane on the right has two layers of Permanent Rose on the stripes.  I will do that to some of the others as well.  For fun you may add ribbon, or other Christmas-y subjects.  Try other types of candy.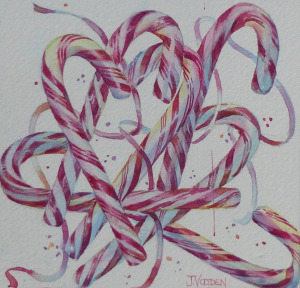 Rusty Jingle Bells
Find a couple of bells in a thrift store, or in your own Christmas box and draw two or more.  Make sure they overlap a bit to add the sense of space and place them at different angles to show varied angles of the bells.
I used Winsor Blue Green Shade, Winsor Violet, Permanent Rose and Green Gold. Â 
To add a bit of sheen lift off some color by using a gentle circular stroke.  I like to use Robert Simmons White Sable Round #4 or #6 brushes for lifts.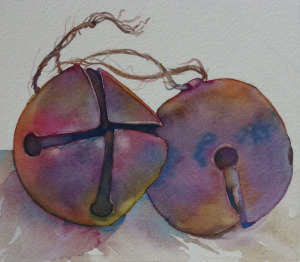 For the frayed strings, practice calligraphic strokes with a #2 liner brush. 
This is not quite finished, but, so far it has two layers of color.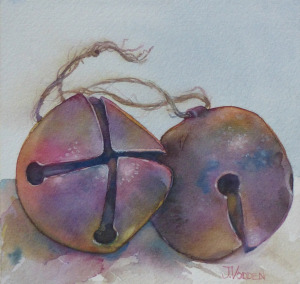 Here are my finished bells.  I've added a gray background which diffused some of the edges of the string.  I've also added another wash of color over the bells, dulling the original color a bit and then I've taken a white colored pencil and added some highlights.