Did you ever do a painting that you almost liked, but just didn't quite make the grade? 
Ha!  We've all done that! 
Here's an example of one I had almost finished, yet something didn't work… Why oh why did I do that background, in that way???  Should I just forget it? 
And, I'd just made that commitment to go through all of my unfinished work and finish up those I found worthy of my time.  Here was this adorable little girl, but the background didn't quite support her.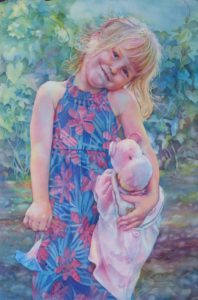 Here's what I decided to do…
After a lot of thought and looking, I decided to take some more time on this painting.  I would add more detail and resolve some confusion…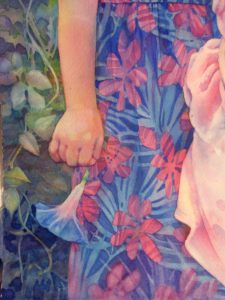 And then a brainstorm hit…
I should change the horizon.  So now Eva would be standing among the vines, instead of way in front of them.  I think it worked pretty well.
Of course, it's always best to plan these things ahead of time. 
But, it's nice to know that you can still go back in and "fix" things.


My finished painting:Â  Eva with Pink Hippo c2017
Here are some of the materials I used:
I copied and printed some images of vine leaves and flowers
I made some templates of leaves and flowers and stems using a utility knife and file folder
I scrubbed out some areas of the painting using my Nancy Collins Watercolor 205 Scrub Brushes and a Shiraz Short Flat brush, which is just great for lifting without roughing up the paper too much. 
Then I went back in and painted some detail into those scrubbed areas.
 
Here is my painting with vine photos, brushes, template and original photo. 
What do you think?  I'm pretty happy with my results.  And, have another of my unfinished paintings completed.
YAY!